Oracle Database Options & Packs
Get visibility and control of deployed options and packs throughout its entire life-cycle, drive down costs and get the maximum return on investment of Oracle database.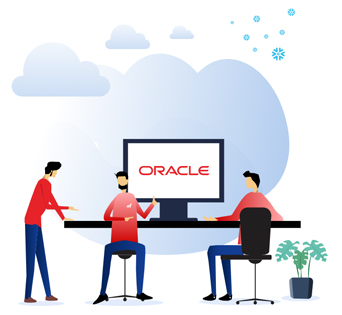 Options & Packs
Oracle Database Options are features of the database that provide specific additional functionality.
Oracle Database Management Packs are programs that enable DBAs to manage, tune and optimize the performance of the Oracle database.
Both Database Options & the Management Packs can be procured only with the Oracle Database Enterprise Edition.
Oracle Database Options & Management Packs Functionality
The table below gives you brief explanations of the functionality of the options and packs to help understand the suitability of its use in your database environments.
| Option or Management Pack | Brief Functionality | Introduced in Version | Currently Available/ Remarks |
| --- | --- | --- | --- |
| Partitioning Option | Partitioning allows large tables to be broken into smaller pieces that improve manageability, availability, and scalability. | Oracle 8 | Yes |
| Diagnostics Pack | This is an advanced set of tools used to monitor the state of databases and systems and pinpoint, analyze, and repair any weaknesses. | Oracle 8i | Yes |
| Tuning Pack | Oracle Tuning Pack provides database administrators with expert performance management for the Oracle environment, including SQL tuning and storage optimization. | Oracle 8i | Yes |
| Advanced Security | Oracle Advanced Security provides a single source of integration with network encryption, single sign-on services, smartcard, token and biometric user | Oracle 8i | Yes |
| Real Application Clusters | Oracle Real Application Clusters is a computing environment that harnesses the processing power of multiple, interconnected computers using clustering technology. It includes Cluster File System capability on the Windows environment. | Oracle 9i | Yes |
| On-Line Analytical Processing (OLAP) | Oracle OLAP is a scalable, high-performance calculation engine with fulling integrated management and administration for delivering analytic applications. | Oracle 9i | Yes |
| Label Security | Oracle Label Security extends Virtual Private Database functionality by offering label-based data access. | Oracle 9i | Yes |
| Database Vault | Oracle Database Vault lets you control who, when, and where data and applications can be accessed & Enforcing separation of duties, even among administrators | Oracle 10g | Yes |
| Database in Memory | | | Yes |
| Real Application Testing | This option enables comprehensive testing of real-world applications so that any issues resulting from system changes are fully identified and addressed during testing, | Oracle 10g | Yes |
| Database Lifecycle Management Pack | | | Yes |
| Data Masking & Subsetting Pack for Oracle & Non-Oracle databases | Facilitates the creation of production-like data for non-production environments by replacing production data with fictitious yet realistic values. | Oracle 10g | Yes |
| Active Data Guard | Enhances the Quality of Service (QoS) for production databases by offloading resource-intensive operations to one or more standby databases, which are synchronized copies of the production database. | Oracle 11gR1 | Yes |
| Advanced Compression | Provides comprehensive data compression capabilities to compress all types of data, backups, and network traffic in an application transparent manner. | Oracle 11gR2 | Yes |
| Cloud Management Pack for Oracle Database | | | Yes |
| RAC One Node | The one-node version of Oracle RAC One Node makes the database highly available in the presence of computer hardware failures, software failures, or planned software maintenance events. | 11gR2 | Yes |
| Multitenant | Windows Device Discovery | !2c | Yes |
| TimesTen Application-Tier Database Cache | Linux & Unix Device Discovery | SSH | Yes |
| | Obsolete Options & Management Packs | | |
| Machine Learning | Provides predictive analytics, data and text mining, and statistical functionality in the database. | Oracle 10g | |
| In-Memory Database Cache | Improve application transaction response time by caching a performance-critical subset of tables and table fragments from an Oracle database to the application tier. | Oracle 10g | |
| Objects Option | The Objects option allows data to be represented, accessed, manipulated, and stored as business objects. | Oracle 8 | |
| Advanced Networking Option | The Advanced Networking option provides client/server, server/server network security using encryption and data integrity checking as well as enhanced user authentication services. | Oracle 8 | |
| Enterprise Manager Performance Pack | Provides an advanced set of tools for managing database environments. It consists of six applications for advanced diagnostics, monitoring, and tuning of Oracle environments. | Oracle 8 | |
| Parallel Server Option | The Parallel Server option allows multiple nodes of a loosely-coupled system (such as a cluster or massively parallel platform) to share access to a single database. | Oracle 8 | |
| Oracle Change Management Pack | Oracle Change Management Pack eliminates errors and loss of data when upgrading databases to support new applications. The pack analyzes the impact and complex dependencies associated with application change and automatically performs database upgrades. | Oracle 8i | |
| Oracle interMedia | interMedia enables Oracle8i to manage text, documents, images, audio, and video in an integrated fashion with other enterprise information. | Oracle 8i | |
| JServer | Includes Java stored procedures, methods, and triggers; EJB, CORBA, IIOP, and HTTP support. | Oracle 8i | |
| Oracle Spatial | Oracle Spatial is an integrated set of functions and procedures that enables spatial data to be stored, accessed, and analyzed quickly and efficiently in an Oracle database. | Oracle 8i | |
| Oracle Standard Management Pack | A complete set of database tuning, diagnostic, change management, and other manageability technologies for Oracle8i. This is an extra-cost option. | Oracle 8i | |
| Time Series | Manages time-based data and provides functionality to do time-based analysis on the data. | Oracle 8i | |
| Visual Information Retrieval | Visual Information Retrieval (VIR) functionality from Virage for advanced image searching and management. | Oracle 8i | |
| Oracle WebDB | The Oracle WebDB is a complete and cost-effective solution for building, deploying, and proactively monitoring Web database applications and content-driven Web sites. | Oracle 8i | |
| Data Mining | Data Mining provides personalization capabilities to enable customers to implement accurate real-time recommendations and personalization capabilities into their online operations. | Oracle 9i | |
| Oracle Spatial and Graph | The Oracle Spatial and Graph option includes advanced features for spatial data and analysis and for physical, network, and social graph applications. | Oracle 11gR1 | |
| Provisioning and Patch Automation Pack | Automates the deployment of software, applications, and patches for the database and underlying operating system. | 11gR1 | |
| Configuration Management Pack | Automates the time-consuming and often error-prone process of software configuration, software and hardware inventory tracking, patching, cloning, and policy management. | Oracle 10g | |
Important Notes Regarding Options and Packs
The Oracle Database options and management packs may be included in Oracle product downloads or described in the documentation that you receive from Oracle, but this does not authorize you to use them without purchasing appropriate licenses.
Unauthorized use of the options and management packs lead to non-compliance.
The counts for all optional packs must match the metrics and counts of Oracle Database licenses for each database in which the packs are being used.
The Diagnostic & Tuning Packs can be triggered by running queries at the command line & accessing underlying data structures despite disabling them. This will need a license.