Exadata, Supercluster, ODA
Oracle Engineered Systems
Understanding Oracle software licensing on Oracle Exadata, Supercluster, ODA, Exalogics & Exalytics range of engineered systems.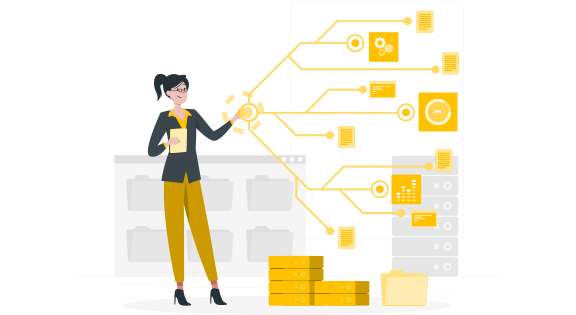 What is an Engineered System?
A Non-Oracle Definition
An engineered system is a composite of people, products, services, information, and processes that provides a capability that satisfies a stated customer need or objective.
What is an Oracle Engineered System?
An Oracle Engineered System is an integrated platform of hardware, software (and services).
The platform consists of

Servers, Storage, Networking, Virtualization, Operating Systems
Specialized software (eg: specialized storage software)
Specialized Management tools, application & database templates.
Expert services

The platform has the capability to run

Oracle software (database, middleware, applications, analytics) faster than any other third party platform
Third-party applications
Exadata
Oracle Exadata: The solution to an important database problem
The Oracle Exadata Database Machine is a database machine that provides extreme performance for both online transaction processing (OLTP) applications and data warehousing systems.
Exadata was designed to address the most common bottleneck with very large databases: the slow speed & sometimes inability to move sufficiently large volumes of data from the disk storage system to the database server. Oracle, in the normal course, does provide intelligent caching technology to solve this problem. But as database sizes have outstripped the caching capabilities, Oracle came up with Exadata.
Exadata solves the problem of moving data faster between the storage and database tier by doing two things simultaneously:
Making the pipe between the storage & database tiers bigger
Reduce the amount of data that needs to move through the pipe
An Exadata Machine is an integrated platform consisting of:
Database Servers running Linux as the operating system
Storage Servers with specialized software
Infiniband Switch & Cable to provide a 40Gbps communication fabric between the server and storage & RAC internode communication.
Networking
Supercluster
The Oracle Supercluster can be looked at as an integrated system with Exadata features and SPARC-Solaris based servers. It can be used to deploy general purpose applications that run on Solaris and may or may not need the storage cell software.
The supercluster has the following components:
SPARC servers running Solaris
A mix of storage with specialized Exadata software & standard disk storage
Infiniband Switch & Cable to provide a 40Gbps communication fabric between the server and storage & RAC internode communication.
Networking
Difference between Exadata & Supercluster
The differences between an Exadata Machine and a Supercluster (in very brief) are:
Exadata is only for running the Oracle database. Supercluster can run any Solaris based program.
If you run an Oracle database on Supercluster, you can use the Exadata storage software technology.
Exadata has Intel-based database servers. Supercluster has SPARC based servers
Exadata & Supercluster Architecture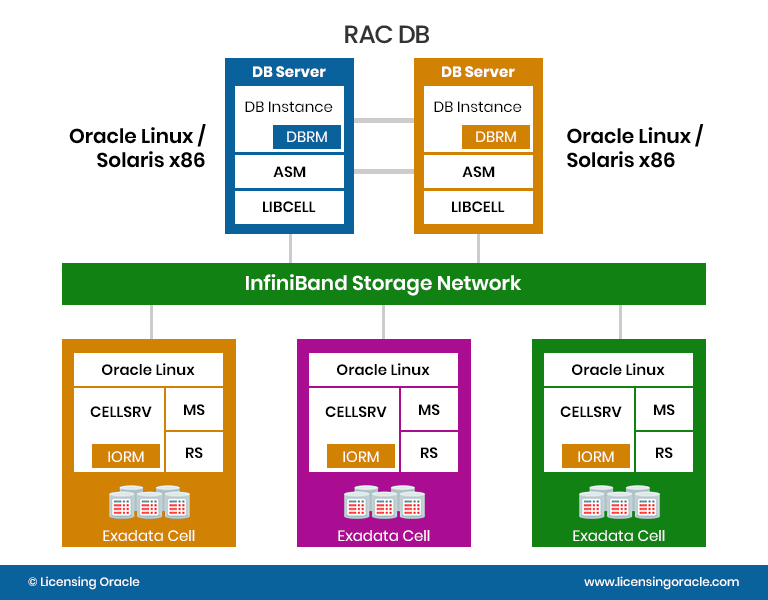 Oracle Database Appliance (ODA)
Capacity On Demand Oracle Database Licensing
What is ODA?
Oracle Database Appliance is a server with storage, networking and software preconfigured.
ODA is a member of the Oracle Engineered Systems family without the features of Exadata.
The ODA comes pre-configured with Oracle Linux, Oracle Linux KVM or Oracle VM, Oracle Grid Infrastructure, Oracle Database Enterprise Edition, or Oracle Database Standard Edition 2, Real Application Cluster.
Oracle has developed the Appliance Manager as a specialized tool to manage the ODA. This is pre-configured.
The ODA comes inbuilt with flash storage that can be expanded within and outside the integrated box. Oracle Automatic Storage Management (ASM) is incorporated into the ODA.
Important Licensing Guideline for ODA:
Oracle uses KVM to provide virtualization in the ODA. (Customers also have a choice of OVM in higher-end systems).
Oracle allows 'capacity-on-demand' licensing of Oracle Database Enterprise Edition to run the ODA. Customers can start small and purchase licenses as they scale up utilization.
Licensing Oracle is a division of Rythium Technologies LLP.